The Universal Record
Universal API services provide access to data from multiple data sources (providers). After a booking is completed, Universal API generates a booking file record called the Universal Record (UR), that is identified by its Universal Record Locator Code. The Universal Record is essentially a Super Travel PNR. It contains and tracks all individual record locators, and one request can retrieve ALL the information associated with the UR. PNRs within a Universal Record can be added to, modified, or canceled through Universal API, and these changes flow directly through to the content providers.
The UR identifies a traveler's entire booking file, including general traveler information and travel provider information, as well as any PNR data from air, car, hotel, rail, or other travel segments available through Universal API. This booking record is specific to the Universal API and can include PNRs from one or more providers that supplied the data for the bookings. Individual travel segments may also contain additional record locators from providers and confirmation numbers from suppliers (air, vehicle, and hotel vendors).
After a Universal Record (UR) is created, a user can take several actions: Air can be ticketed or refunded*, and all other URs can be canceled, modified, or retrieved.
Click a blue box to find out more.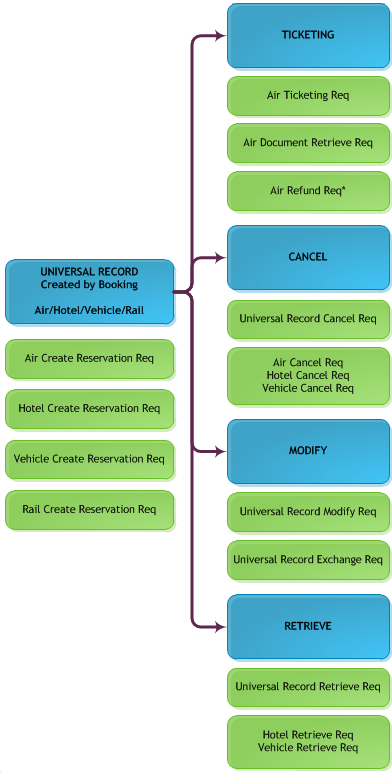 * REFUNDS AND EXCHANGES ARE NOT SUPPORTED BY ALL PROVIDERS.

Next Steps