Join Training
This section explains how to join the Webex meeting, how to set up audio, and how to use Webex during your training session.
Day Before Session
You will receive an reminder email from your region's training email address or from the instructor. This email contains simple yet important steps to assist you joining your webinar.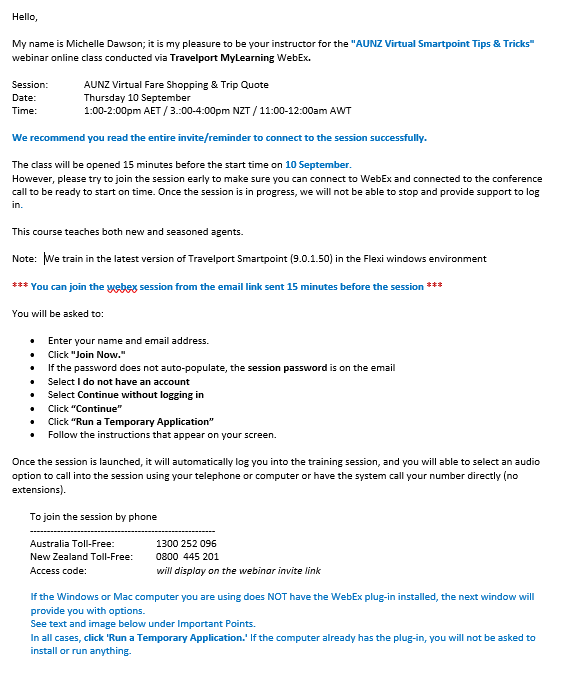 Day of session
Webinar participants will receive a reminder email from messenger@webex.com containing the course details and a link to join the session. You can also join from the registration email or calendar meeting if this has been downloaded.
Click the URL link to launch the webinar at least 10 minutes before the scheduled session.

Email example

Calendar example




The Cisco Webex site opens with your meeting information.

Select Join Now located below the Registration ID. The registration ID and sessions password should pre-populate.

If the details do not pre-populate, the details can be found on your registration or reminder email.

A second log in page displays. Select the Continue without logging in option, then select Continue.

Choose Install if prompted.

Installation prompt in Internet Explorer

Add Cisco Webex extension to Chrome if applicable.
Audio options
Connect audio via computer by choosing the Call Using Computer option on Audio Conference when prompted.  This will enable you to listen and speak during the session.

Note: If you miss the automatic system audio prompt, you may manually click on the audio icon. Please see screenshot below.

If you do not have computer audio, you can dial in via phone. The contact numbers and session number are on your invite.
How to use Webex

Your tool box is located at the top of your screen (click on the blue tab). In this example, you will see Viewing Michelle Dawson's desktop.
Mute microphone
Please mute the speaker when the session begins.

   Red indicates you are muted.

  Grey indicates you are not muted.

Chat
You can use the chat function to ask questions through the session.
Click Chat icon from the tool box.

Select the recipient from the Send to list.

Type in chat box.

Click Send.